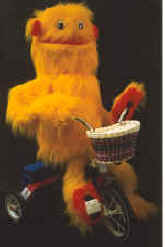 A Cartoon style Character mounted on a Childs Tricycle with the ability to move
around on most surfaces, is also a High Tech Robot with the following features:
* Two way Wireless communication system, including sound pickup and
Voice Microphone allowing Harry to
meet and greet Participants
* Fluent Head Movement, pans 90 Degrees Left and Right
* Mouth movements synchronised to conversation with Participants
* Sound System comprising powerful Amplifier, Cassette Tape Player which can transmit
pre-recorded Messages or Music
* Basket mounted on Handlebars for the distribution of Leaflets or Samples
* Product Branding is available by means of Custom Waistcoat and / or Baseball Cap, we also have the facility
to construct custom made characters to your specification.
Physical Specifications
Height: 3' 9'' Width 23''
---
---
RoboShop
Telephone: 01202-576622
Fax: 01202-578822
email: Sales@robot-hire.com
---
RoboShop is a Division of The Entertainment Biz, the largest Supplier of Adult Interactive Equipment in the U.K hiring to the Night-Club and Corporate Entertainment Industries, Colleges, Universities, Television, Film and Video Companies.
For full details of all equipment available, please visit our main Web site
| Robot Hire | Robots for hire | Mechanical Robot Hire | Robots for Hire |

mechanical robot hire, walking robot, robot humanoid, human robot, intelligent robot, wheeled robot, robot for hire, robot hire, robots to hire, robot equipment, hire a robot, robots for hire, robot for hire, robots, robot shop, robot man, mobile robot, robotic act, robot act robot entertainer, robot entertainment, remote controlled robot.